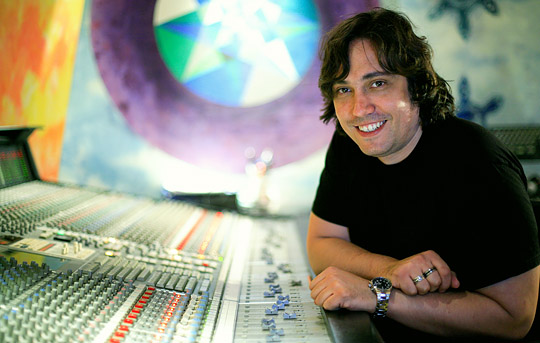 Pedro Ferreira is a Brit Award-winning music producer who has worked with some of the world's best known artists, from multi-platinum selling rock act The Darkness, Meatloaf, David Gray, Stereophonics, Therapy?, Enter Shikari and Tokyo Dragons, right through to some of the most exciting breaking rock and indie acts on today's music scene.
With over 20 years experience producing acts from every genre, Pedro offers professional services to both established and new artists alike, with the unrivalled passion and creative flair necessary to help them achieve the very best from their work.
PRODUCING
Pedro gets involved with artists at various stages of their record production.  He can take the artist all the way from writing early demos at the pre-production stage, through to choosing and booking the right studio, recording and engineering the album, completing with mixing and approving the masters.
Pedro has a good relationship with studios up and down the country from small mixing rooms to large residential studios.
MIXING
Pedro has worked on some of the biggest artists to date as a mixing engineer on projects of every scale, from singles to full albums and re-mixing catalogue. In today's climate, many artists are finding their own methods of producing a record, and come to Pedro for that add touch of spark and magic needed to bring the record to life.  Pedro also has his own studio available in London equipped with Pro-Tools HD, offering flexibility and competitiveness in today's market.
"I'm fortunate to have worked with some extremely talented artists in my career. Some have been signed to majors, others are just starting out. Some are heavy rockers, others are singer songwriters. As long as the passion for their music is there, it really doesn't matter".
Pedro can help you in all stages of production for your record. Whether it's helping you arrange the songs, organise other musicians to help with backing or simply produce, record and mix. It's all about getting the most out of your work.  So whether you are looking to record a full-length album or simply mix a single, Pedro has all the facilities and skills required to make it happen.
Take a look through Pedro's online portfolio here, and feel free to get in touch using the contact page.